This post was originally published on this site

Nestled in the heart of the Texas Hill Country, Boerne is a charming small town located just 30 miles northwest of San Antonio. Known for its rich history, unique attractions, and picturesque landscapes, Boerne has emerged as an ideal destination for visitors seeking an escape from the hustle and bustle of city life. With a diverse range of activities and locations in and around the area, it's easy to see why this quaint town has captured the hearts of both tourists and residents alike.
Among its many attractions, Boerne boasts a variety of natural and cultural sites that cater to outdoor enthusiasts, history buffs, and art lovers. Five top attractions around Boerne to experience the diverse beauty of this unique area include Boerne City Lake, Boerne Community Theatre, Cascade Caverns, Cave Without A Name, and Guadalupe River State Park. Each of these attractions offers a unique experience, serving to highlight the natural beauty and vibrant culture of Boerne and its surrounding areas.
Whether exploring the hidden depths of the region's famous caves or catching a show at the local community theatre, Boerne offers an abundance of memorable experiences for travelers of all ages and interests. The close proximity to San Antonio ensures easy access to the city's amenities while retaining the tranquil and picturesque qualities that make Boerne such a beloved destination. So, it's time to start planning your visit to this Texas gem and uncover the unforgettable adventures that await you.
Boerne City Lake
Boerne City Lake Park is a popular attraction for both tourists and locals in the Boerne, Texas area. The park offers a variety of activities and amenities that cater to people of all ages. The centerpiece of the park is the beautiful Boerne City Lake, which is surrounded by lush green spaces, making it an ideal spot for outdoor enthusiasts.
Visitors can enjoy spending time at the lake, where they can feed the ducks or simply relax by the water's edge. For those seeking more active pursuits, Boerne City Lake Park offers a variety of options. Kayaking is a popular activity on the lake, and there are several rental options nearby for those who don't have their own equipment.
Fishing enthusiasts will appreciate the well-maintained fishing pier and boat dock, which provide easy access to the lake's abundant fish population. Be sure to have a valid Texas fishing license to enjoy the full fishing experience in compliance with Texas Parks and Wildlife rules.
For those who prefer to stay on land, the park features an 18-hole disc golf course that is both challenging and enjoyable for players of all skill levels. Additionally, the park is perfect for a Sunday morning walk or jog, with well-maintained grassy walking areas and picturesque views of the lake.
Visitors looking for a more leisurely experience can take advantage of the numerous picnic tables scattered throughout the park. These shaded spots are great for enjoying a meal or simply taking a break and admiring the natural beauty of Boerne City Lake Park.
With so many activities and amenities available, Boerne City Lake Park is a top attraction for anyone visiting the Boerne area. No matter your interests or energy level, there's something for everyone to enjoy at this picturesque outdoor destination.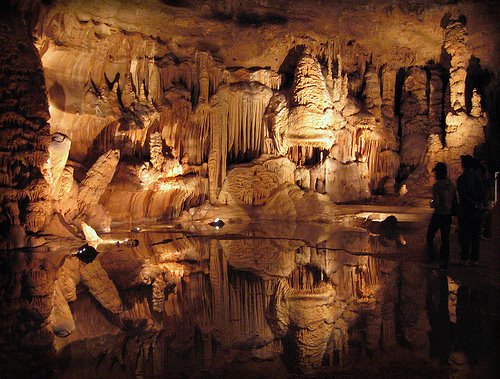 Cave Without A Name
Cave Without A Name, located 11 miles northeast of Boerne, is a natural living cavern situated in the scenic, rolling hills of the Texas Hill Country. Considered by some as the most beautiful cavern in Texas, this designated Natural National Landmark boasts six major rooms filled with a variety of stunning geologic formations.
Visitors to the cave can embark on a cave tour where they will get to explore its vast chambers and witness remarkable formations of stalactites, stalagmites, delicate soda straws, cave drapery, magnificent flowstones, and rimstone dams. The cave's constant temperature and humidity create the perfect environment for these formations to thrive and grow over time.
One of the most notable features of Cave Without A Name is the Queen's Throne Room, a chamber that hosts regular concerts due to its unique acoustics. As concertgoers descend into the depths of the cavern, they are treated to a one-of-a-kind auditory experience that showcases the cave's natural beauty alongside a wide array of musical styles.
In addition to the concerts and tours, visitors can also enjoy the serenity and beauty of the surrounding landscape, filled with tall trees and picturesque hills. For those looking to experience the wonders of Mother Nature, Cave Without A Name is undoubtedly an unforgettable attraction in the Boerne area. This natural gem nestled in the heart of Texas Hill Country truly lives up to its reputation as one of the top attractions for visitors to explore and marvel at.
Boerne Community Theatre
Located in Boerne, Texas, the Boerne Community Theatre is a notable attraction in the area, delighting visitors and locals alike with their well-maintained facility and entertaining performances. Since its establishment in 1991, this nonprofit community theatre has been passionate about offering an exciting season of plays and musicals to the Boerne community every year.
Featuring talented local actors, the Boerne Community Theatre presents a variety of engaging productions that cater to diverse age groups, including children's shows. The theatre aims to foster an appreciation for the performing arts in the local community and provide a platform for aspiring performers.
According to TripAdvisor reviews, the Boerne Community Theatre is ranked among the top attractions in Boerne, with visitors praising its lively atmosphere, professional productions, and charming local talent. Visitors are encouraged to check the theatre's event calendar in advance and experience the theatre as a part of their Boerne trip.
To sum up, the Boerne Community Theatre is a valuable attraction that offers excellent entertainment in the heart of Boerne. Its commitment to showcasing local talent and providing memorable experiences for the audience makes it a must-visit destination when exploring the area.
Cascade Caverns
Cascade Caverns, located in Boerne, Texas, is the oldest public touring cave in Texas, dating back to its discovery by the Lipan Apache people in the 1700s. This historical "Living Cave" has become a major attraction for tourists visiting the area. With an impressive collection of geologic formations, such as stalagmites and stalactites, Cascade Caverns offers visitors a unique experience.
Visitors can embark on cave tours that take them through five major rooms within the caverns, including the spectacular Cathedral Room, which features a 100-foot waterfall. The 3-hour adventure tours provide ample time to explore the magnificent formations and learn about the history of the cave. Tour guides are knowledgeable and ensure that the experience is both fun and informative.
When exploring the Cascade Caverns, visitors can surround themselves with the natural beauty of the area, including the marvels of the cave's unique geologic formations. By walking through the nature trails around the caverns, guests can further appreciate the serene and enchanting surroundings.
In addition to the cave tour and nature walks, Cascade Caverns also offers a variety of amenities to make the visit enjoyable and convenient. On-site, there is a gift shop where visitors can purchase souvenirs and a pavilion area with picnic tables for relaxation before or after the tour.
The Cascade Caverns are a must-see attraction around Boerne for those interested in exploring the awe-inspiring beauty of nature with their own eyes. So, whether you're an adventurous explorer or someone looking for a unique and educational experience, the Cascade Caverns are a remarkable destination that combines both the wonders of caverns and the beauty of the surrounding landscape.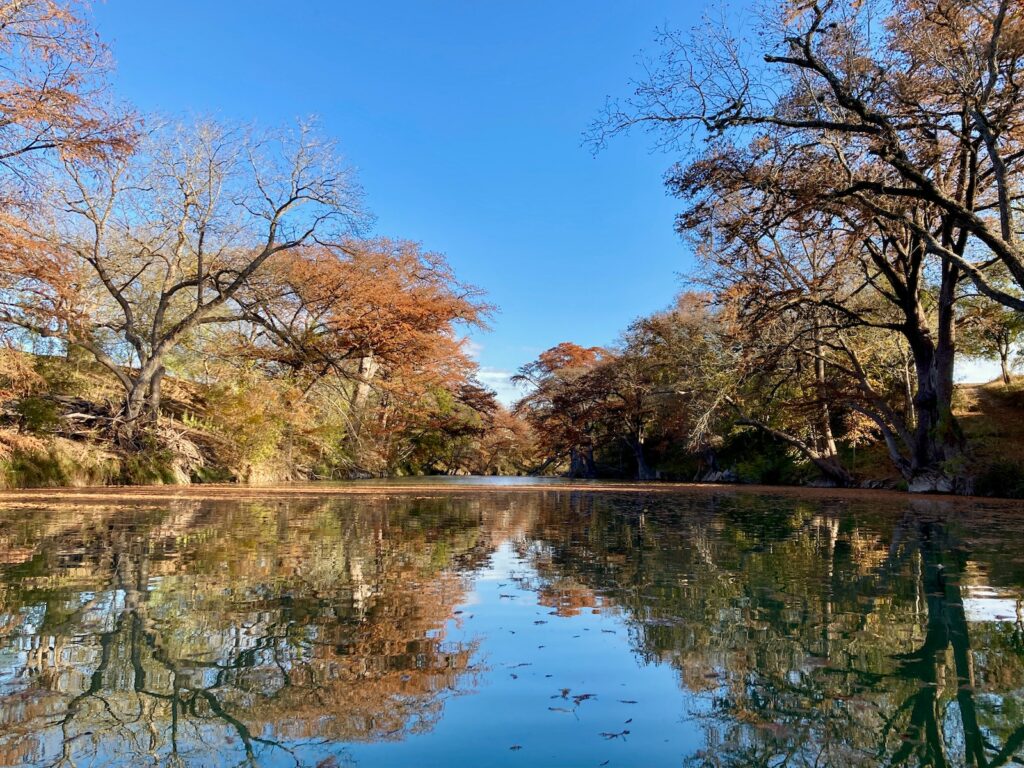 Guadalupe River State Park
Guadalupe River State Park, located near Boerne, TX, is a beautiful destination for nature enthusiasts and adventurers alike. The park offers a wide variety of activities and attractions for visitors, making it a popular choice for both locals and tourists.
The park is centered around the Guadalupe River, which provides an excellent opportunity for water-based activities such as kayaking, fishing, and swimming. Visitors can enjoy the picturesque scenery of the Guadalupe River framed by majestic old bald cypress trees, providing a serene backdrop for relaxation and nature exploration. For those looking to stay active, Hill Country Paddle Sports rents kayaks and SUP boards for use on the river.
Another highlight of Guadalupe River State Park is its variety of hiking trails, allowing guests to fully immerse themselves in the natural beauty of the surrounding wildlife areas. For a different perspective, visitors can participate in guided nature walks or take advantage of educational programming at the park's Nature Center.
Guadalupe River State Park offers a range of accommodations to cater to different visitor preferences. There are numerous RV sites available, complete with potable water, dump sites, and bathroom and shower facilities. Additionally, guests can make use of the park's picnic tables and fishing pier features, ensuring a comfortable stay for all.
While fires are not permitted in some areas of the park, visitors can still enjoy gathering around designated campfire spots to cook, participate in group activities, or simply unwind after a day spent exploring all the park has to offer.
Overall, Guadalupe River State Park is an excellent choice for those seeking a diverse range of activities, stunning natural beauty, and comfortable amenities in Boerne, TX.
Nearby Attractions
Boerne, a charming town in Texas Hill Country, offers a variety of attractions for visitors to explore. A stroll along the Hill Country Mile presents numerous shops, restaurants, and antique stores to discover. One of the notable stops is the Epicure Gourmet Market, popular for its exquisite food selection and attentive staff.
For nature enthusiasts, a visit to Cibolo Nature Center is a must. This beautiful area features trails, a wildlife library, and picnic areas. Kreutzberg Canyon Natural Area and Guadalupe River State Park are also fantastic nearby attractions for outdoor adventures, offering hiking, wildlife viewing, and water activities like fishing and kayaking.
Those interested in history can explore the Kuhlmann-King House, a preserved historical home that showcases Boerne's past. The Carriage House Gallery, Gallery 195, and Main Plaza, located along Blanco Road, offer a glimpse into the vibrant local arts scene.
If you're in the mood for a wine tour, numerous wineries surround Boerne, presenting an excellent opportunity to sample the fantastic wines of Texas Hill Country. Boerne is also known for its quality craft beer, with Cibolo Creek Brewing Co and Dodging Duck Brewhaus on the list of must-visit breweries.
The Kendall, one of Texas's oldest hotels, is another notable attraction and offers comfortable accommodation for those looking to explore the area further. Additionally, the Old No. 9 Trail is ideal for cycling or walking, providing access to picturesque landscapes near Boerne.
For sports enthusiasts, there are tennis courts, volleyball courts, and a fishing pier available in some nearby parks. And if you're visiting on weekends, don't miss the opportunity to experience live Bluegrass Jams, followed by brunch at various local restaurants.
In summary, Boerne and its surroundings offer a wealth of attractions, from natural beauty to rich history and excellent food and drink options, making it an ideal destination for visitors looking to discover the authentic Texas Hill Country experience.
Conclusion
Boerne is a charming town in the heart of the Texas Hill Country, offering visitors a diverse and interesting array of attractions. The top attractions in Boerne cater to people of all ages and interests, giving everyone an unforgettable experience.
Nature lovers will find themselves right at home in Boerne, with spots like Boerne City Lake and Guadalupe River State Park offering stunning scenery, various recreational activities, and opportunities to connect with the great outdoors. Explore the underground wonders of natural formations at Cascade Caverns and Cave Without a Name, known for their impressive stalactites and stalagmites formations.
For those who appreciate arts and culture, the Boerne Community Theatre is a must-visit attraction, providing entertaining plays and shows in an intimate setting. This small-town theater showcases local talents while maintaining a welcoming and engaging atmosphere for all attendees.
In summary, Boerne offers a unique blend of natural beauty, cultural experiences, and outdoor adventures, making it an ideal destination for anyone looking to explore the Texas Hill Country. With these top attractions, visitors are sure to create lasting memories and uncover the magic that Boerne has to offer.
The post Top Attractions Around Boerne: Discover Unforgettable Gems in Texas Hill Country appeared first on Boerne Texas.